Chris Froome was caught in a accident with Geraint Thomas before Marcel Kittel won stage two of the Tour de France in Lige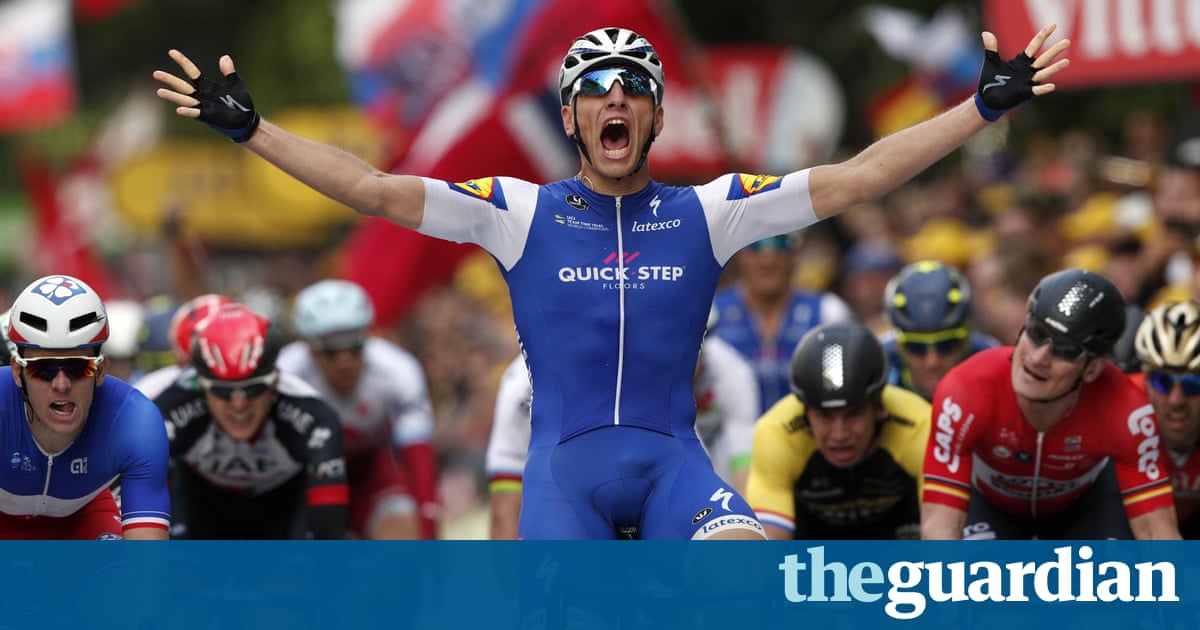 With eight more probable sprint stages before Paris, Sunday was probably just the beginning for Marcel Kittel but it could easily have been the end for Chris Froome or Geraint Thomas. The German rode to the 10 th stage win of his career in a sprint finish here, with Mark Cavendish a promising fourth, but Froome and Thomas were both caught up in a massive, spectacular pile-up on wet, slippery roads 22 kilometres from the finish, although both men regained the field with only abrasions to worry about.
The crash occurred at the front of the peloton on the exit from a roundabout shortly before the final short climbing of the stage, ironically enough after most of the field had survived a tricky passage on narrow cobbled roads through the soaking centre of the town of Aachen. Two riders in the first half dozen lost their grip the man in front falling after the one behind him, presumably having heard him go down and then reaching his brakes and at the least 25 bodies piled into a traffic island, although at the least one luck man managed to bunny hop his way out of the chaos.
Five members of Team Sky were involved: Froome, Thomas, Luke Rowe, Michal Kwiatkowski and Christian Knees, and having picked himself up off the deck, the three-time Tour winner had to stop again a couple of kilometres later to change his motorcycle. Thomas, meanwhile, was back in the peloton with his team-mate Mikel Landa, but felt under no pressure to stop and wait for his team leader. Another overall contender affected was Romain Bardet, who suffered a grazed knee but joined forces with Sky to regain the field.
No injuries, thankfully, told Froome. Ive just lost a little bit of skin on my backside. Thats the nature of the race. We knew that there were slippery conditions, and every time you put your race numbers on you take risks and something could happen.
No real injury, only a little bit of skin, was Thomass verdict. The road was so slippery that you only slid.
Most seriously affected was Skys road captain Rowe, who finished 13 min 55 sec back and was taken to hospital for exams on a slight head injury. It took Froome and his team-mates more than 10 kilometres to make their way back to the front of the peloton, by which period the finish close to the confluence of the Meuse and Orthe rivers was looming.
It was a hesitant sprint, with no team willing or able to take control, reflecting the pattern of recent Tours. As a result the final survivors of the day-long escape, the American Taylor Phinney and Frances Yoann Offredo, were cruelly given just enough latitude to hope they might survive to the line before being scooped up simply approaching the final kilometre.
Every sprinter was on his own today, said Kittel, who was without help from his team for the final 500 metres. Our lead-out was not perfect, but others were nonexistent. The hulking German ducked into the slipstream of Bahrain-Meridas Italian Sonny Colbrelli as good a wheel as any for a few seconds before emerging down the centre of the road to win by almost a motorcycle duration from the French national champ Arnaud Dmare.
Cavendish never looked like matching the German, but was happy with fourth. I surfed and I aimed up on Marcels wheel, and I believed perfect, but when he went I was just sprinting on his wheel. There was no way I could come past him. Its more than optimistic to think Im going to win anything here, but Ive got a better opportunity of winning if Im here than if Im sat at home.
Not far behind, the Yorkshireman Ben Swift managed seventh in his first Tour sprint for six years, while the third British sprinter, Dan McLay, was not far off the pace in 14 th.
Mondays stage offers similar stresses but in another context. The stage southwards operates initially through little town familiar from the Lige-Bastogne-Lige classic, then through Luxembourg before finally entering France for an uphill finish on Cte des Religieuses, close to the Vauban citadel at Longwy. As Thomas points out, that will favour a different kind of finisher: uphill specialists such as the Olympic champion, Belgiums Greg Van Avermaet, the Australian Michael Matthews and the world champion, Peter Sagan of Slovakia.
The pressure will be felt by all the overall competitors who know that time can easily be lost here, so the finale is likely to be hectic, and the pile-up serves as a reminder of health risks, if someone needed one. The opportunities are that Thomas will retain the lead although the Norwegian Edvald Boasson Hagen may harbour notions at only 16 sec back with a 10 sec hour bonus for the win and if Kittel and his fellow flat-earth sprinters lose time the Welshman could be set fair until Wednesdays finish at La Planche des Belles Filles.
Read more: www.theguardian.com